I wanted to share this idea regarding child caring. The default way these days is for both parents to work while hiring a foreign domestic worker (or two) to take care of the kids. That is the most economic and financially savvy way. Hiring a domestic worker is much cheaper than going to infant care or child care, and have more utility. That is also the reason (I suspect) why my mum-in-law insists on wanting us to hire one. I vehemently refuse.
I seek to explain why here. But let us go to a separate domain of raising capital for companies first. I'll show you why knowing that stray bit of information is important in understanding my decision in not hiring a domestic helper.
HOW TO RAISE CAPITAL
There are two ways in which a company can raise capital. Either give up some ownership by selling equities or retain ownership by borrowing money using debt. Most companies do a mix between these two extremes because there are some advantages and disadvantages for doing so.
If a company raises capital by selling equities, they lose ownership in the process. Future profits might be more but the original owners will get a lesser cut out of it. On the other hand, they don't have to pay anything now (let's exclude the fees to raise the equities now to simplify matters). The 'payment' is taken from the potential future profits of the company, which may or may not materialise. The company essentially raises cash in the present by paying from their future. Examples of raising capital by issuing equities are issuing new shares, rights and ipo.
If a company raises capital by borrowing money, they lose money right now in the form of interest paid on the borrowed sum. On the other hand, they retain full ownership and they don't have to pay any potential future profits to their debtors as the interest is fixed at the time of borrowing. The company is essentially raising cash in the present by paying right now. Examples of raising capital by issuing debts are loans from banks and bonds.
I want to highlight that neither methods are superior in itself. It's all based on circumstances. However, there seems to be a bias against borrowing money. Well, don't be. Borrowing money is perfectly fine, especially if you didn't over leverage and have the means to pay off. Businesses borrowing money to earn a greater profit by taking on projects that they can't otherwise undertake, is perfectly normal.
HOW TO RAISE HELP FOR CHILDCARE
There are two ways to do this. You can ask someone to do it or you can do it yourself. When I mean someone, I mean anyone other than the parents. It can be a foreign domestic helper, a nanny, your mum in law or any of those commercial child care services.
If you raise help by asking someone else, you are like a company issuing equity. You are giving up ownership of your child to them. That someone else have a claim on the future relational profits that came from taking care of your child. Some parents are afraid that their hired helper (or mum in law) is getting too close to their child, to the extent that they prefer to be with the helper rather than the parents. This is a good example of a future claim on relational profits. The disadvantage is that you can't control formation of habits and values because transmission of such things are formed through daily contact, and you had already given up ownership on this.
If you raise help by doing it yourself, you are like the company borrowing money by issuing debts. You have full ownership of your child, and what values and habits you want to inculcate. Any future relational profits will be yours to gain. The drawback is the time spent and the potential income lost from doing it yourself. That is the interest you have to pay for 'borrowing', but you retain full ownership of any relational profits (or losses) yourself.
Most parents do a mix between these two extremes. Some activities they choose to do it themselves, while others they choose to seek help. The actual percentage varies according to circumstances, just like how the companies will choose their own debt/equity ratio. I've seen extreme cases too, where a household hires a foreign domestic helper while both parent works. Maybe a grandma stays in to watch over things. This is nearly 100% equities already. Another extreme case is where father works, mum quits her job to be full time housewife. She takes care of home matters all by herself. That's like a 100% debts scenario, based on my definition.
CONVERTIBLE BONDS?
This way of looking at child caring in household leads to interesting situations if we take the model of raising capital by companies to the extreme. Let's take a look at just one funny case.
Companies sometimes issue convertible bonds, so it's a mix between debt and equity. It's initially a bond paying fixed interest until a certain call date where the holders of the debt can convert it to equities, thus having a partial ownership of the company's future profit. If we extend the concept of convertible bonds to raising help in child care, then it's like a household hires a nanny to take care of the child, then after a period of time, marries the nanny into the family and thus the bond becomes an equity! Sacrilegious!
I'm sure readers can think of even more ridiculous application, so do share at the comments below.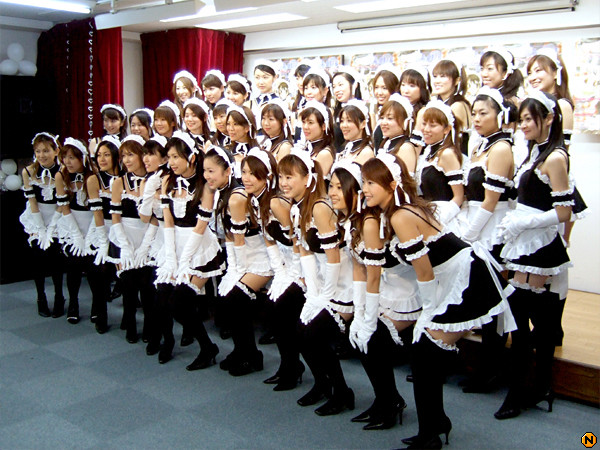 I've seen a family with a household of 3 maids. One to cook, two to take care of household chores because the home is damn damn big. He is one of the bigshots of a media company living in the heart of Orchard road. Of course, this suaku Singaporean that is me is stunned like vegetable. Still yet to see a house filled with a harem of manga inspired 'maids'. That will be a sight to remember, haha
MY HOUSEHOLD
I work at home, so do my wife. Sometimes we have to go out for work, but that's just a few hours. My mum comes over to help out during the day, but leaves at night, so we take over the night duty. It's my wife who mainly handles the night part while I'm the backup because I have more work than her so I can't rest during the day time while she can (when my mum takes over). Selected activities are done by my mum while the rest are taken up by both of us. So, I'll say for my household, we're like 40% equities, 60% debts. Remember? Equities mean giving up ownership by asking for help, while debts mean retaining ownership by doing it yourself. So, I'm about 60% hands on and 40% outsourced.
My brother does quite the opposite from me. He hires help and outsourced the work to my mum who stays for about 6 years at his place. Both wife and himself are working full time, so it's a 100% equities for his household. I can see that the child is more attached to the helper and my mum, and there are periods of tension between my brother's wife and my mum because of this relational profits issue. They should have known better I suppose, because by issuing equities, they are giving away future relational profits to the very people who took care of the child. It's unavoidable - we like people more if they spend time more with us. Being a parent is not a right, it's something you have to spend time to grow into. Learning from this experience is also why I am a bit more cautious in giving away equity so freely.
Not wanting to hire help is a personal choice and personal preference. To be honest, I've seen families work well too with both parents working and the kids are taken care of by foreign domestic workers. But take note, usually the success cases I've seen are where the helpers are staying with the family for prolonged periods of time. 5 to 10 yrs? The helpers are not the come and go type. And there must be a family member at home together with the helper, so it's usually the grandma from either side of the parents. There is also a critical period too, usually before the kid enter primary school. Hence the first 6 years is the most important part of the kid where a lot of things are set right or failing which, it'll be hard to reverse.
Dad working + mum working + helper - family member at home = High chances of failure. Not going to take the chances after seeing what I see.
FINANCIAL SENSE NOT EQUALS COMMON SENSE
You are losing common sense if everything fulfills financial sense. These days, everything seems to be poisoned by financials. If it doesn't make sense economically, it's a bad decision. You weigh the decision of whether to have a child by looking at money. You weight the decision of buying a car by looking at money. You weigh the value of a university degree by looking at money. It's not wrong to make a decision by analyzing it financially; it's wrong if you make a decision
only
by analyzing it financially.
Look at a typical school based question. Container A has 10 kg of say milo powder selling at $4.50 each. Container B has 15 kg of the same milo powder selling at $7.50 each. The typical question is, which of the two containers should a fictitious person, say Mary, buy?
The unit price for container A is $0.45/kg, and that for container B is $0.50/kg. If you did not choose container A because it is cheaper per kg basis, I'm quite sure you'll be marked wrong. A more clever question is this: given that container A has a lower unit price, why should Mary buy container B instead?
a) Mary needed between 10 to 15 kg but not more than 18 kg, so 2 containers of A will be too much but one container of B is just enough
b) Mary needed the size of container B to store things
c) Container A has an expiry date that is nearer than container B
d) Mary likes the green colour of container B. She hates blue.
Must everything be in dollars and cents? That's just one perspective, isn't it?
Financially, it's better for both parents to work to earn the income, hire a foreign domestic helper with the earned income, take care of the kids and settle everything. In reality, it doesn't work as nicely as it should be. I've seen a lot of cases where the parents did not build a strong foundation with the kid, and when the kid starts to have behavioral issues (especially when they started school and mix around with others) and the parents start realising something is wrong. One of them, usually the mum, quits her job to oversee things, but it might be too late. If the parent did not reach a certain level of trust in the relationship, he or she can't start issuing advice. The kid just won't be able to accept. This is especially so for boys, because I think they are genetically programmed to rebel against his parents in order to forge his own sense of identity.
Parents, don't just be an ATM to your kid, please.