Finally received the final bill from NUH, so that I can properly blog about the cost of the entire pregnancy and delivery. To be honest, NUH billing is so complex and it's not immediate intuitive to know what the costs are. I received a total of 3 billings, one while in the hospital, one after I've discharged and the last one about 2-3 weeks after we discharged. Why so many bills? I've no idea. From what I observed, the first bill is to let us know the rough figures while the second bill is for us to foot a deposit in cash, because there is a limit to claim from medisave and so the rest had to be footed in cash. Lastly, the final bill received post discharge is after all the medisave claim had been sent, approved (they might not grant you the full medisave claim) and we had to pay the remaining amount due by credit or cheque.
3 STAGES OF PREGNANCY JOURNEY
To understand the bills, one would have to understand the events leading to the delivery. There are 3 major stages:
1. Antenatal charges
This is related to the checkups, from the 1st trimester to the 3rd trimester, and includes stuff like consultation with the gynecologist, laboratory screening (for genetical defects etc), ultrasound scanning and swab test. There is also a range of supplements, like essential vitamins, iron, calcium, fish oil and folic acid, to ensure that the mother is well nourished so that the foetus can grow healthily. For new parents, there could be antenatal classes conducted by various hospitals to teach the parents how to prepare for the delivery and also the care taking part.
2. Delivery charges
This is related to the actual delivery cost. Generally there are two ways - natural (or normal) delivery or cesarean delivery, with the latter being much costlier because besides the gynecologist, there is also an anesthetist (that's two doctor fees for you). It takes a longer time for the wound to heal too, so the standard hospital staying duration is 3 days, as opposed to just 1 day or 2 days for normal delivery. Lastly, there are a lot more medications and drugs so there will be more charges on this aspect as well. During antenatal check ups, there is a GSB (group B strep) swap test. If it's tested positive, there will be a need to IV drip antibiotics during delivery. All the charges are also tagged to ward category, but if the father wants to bunk in overnight, it has to be A wards (single bedder).
3. Nursery and laboratory charges
These are charges for the newborn baby to stay at the nursery. On top of that, there is a screening for NENS (I don't know what's that), Galactosemia and Cystic Fibrosis, plus vaccinations (BCG, Hep B etc). There will be daily pediatrician visits to check on the baby too.
OUR BILL
It's really hard to make a good judgement of the cost without telling people what we had in the first place. So, here's what we had:
Antenatal:
1. 4 consultations with a senior consultant + 1st trimester antenatal screening
2. Antenatal package covering 8 consultations with the doctor and some screening
3. GBS screening
4. Supplements
5. No antenatal classes (about $200)

NUH antenatal package. We opt for the senior consultant, highlighted above
Delivery:
1. Natural birth
2. 1 day hospital stay at A1 ward (single bedder)
3. No painkillers like epidural
4. GBS positive - so antibiotics given
5. 18 hours labour

NUH delivery package. We have a normal delivery @ 1 bedder ward, highlighted above
Nursery and lab:
1. No jaundice
2. All standard vaccinations
3. All screening test (NENS, Galactosemia, Cystic Fibrosis)
3. 2 day nursery
I'll present the final bills here: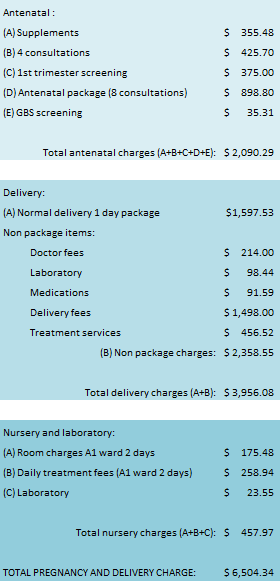 The total bill works out to be $6,862.21. (
Update on 22nd Feb 2017: I checked my CPF-MA and realised there is another deduction of $361.87. I have no idea where it came from - I told you NUH bills is really confusing
) Of the Antenatal and delivery charges, $2100 can be claimed under CPF Medisave account (MA), while the entire sum of $457.97 under the Nursery and lab charges can be claimed under MA. In other words, we paid $3,946.37 in cash. But that's just the final sum after all the claims had been done. What's more important is the cash out flow i.e exactly
when
do you have to pay this or that fees?
Here's my hand drawn time schedule of all the cash payment: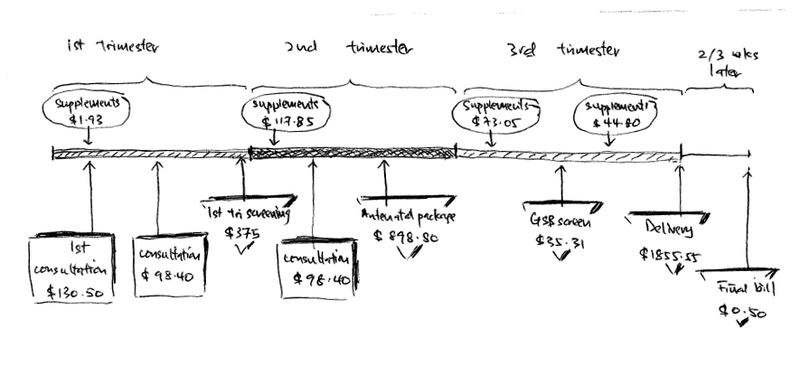 My hand drawn diagram of the cash outlay schedule. I would like to do this digitally, but nah, time is precious to me these days. Essence is more important than form.
Antenatal charges is spread over the entire pregnancy over 3 trimesters. The entire $2,090.29 is paid by us first, then we can claim from MA after delivery. Supplements is paid throughout the entire 9 months. The first 4 consultations and 1st trimester test (B+C) amounting to $800.70 is paid over 2 trimesters. Thereafter, once the antenatal package of $898.80 is paid in advance, there's not much money to be paid for check ups anymore other than the supplements and some minor tests.
Delivery charges is first paid on the day of discharge. They will calculate how much you paid for the antenatal charges, add in the delivery fees and minus off the medisave claimable amount. You pay in cash/credit immediately. That is $1855.55 straight away for us.
Nursery and lab charges are claimable from medisave straight away, so there's no need for any cash outlay for that one.
After 3-4 weeks, when the final bill is in, we owe them $0.50 (you did not read wrongly). So, either a cheque or a credit card bill statement had to be sent back to them and that will be all.
LAST THOUGHTS
Is it costly to give birth in Singapore? I think a lot depends on our expectations. With the baby bonus of $14k, $8k of which is paid out in cash over several months, this will more than offset the cash outlay of the entire pregnancy journey. I'm showing both the final bill and the actual cash outlay schedule hoping to reassure new parents that it's not a shocking bill at the end of the whole thing. You'll have 9 months to save up, and even then, all can be paid for by the baby bonus. Of course, care-taking is another big tap where money gets drained out fast.
That is another story, another day. In the meantime, I have a baby boy to cuddle and love :)
Part 1:
My fatherhood journey
Part 2:
Her motherhood journey