Me and my wife went to Bangkok for a short trip, but without our baby boy. It was a break away from him and really a morale booster after not having gone for a trip for almost 2 years. It wasn't the first time we're in Bangkok and a few thing have changed.
Firstly, we went to a pretty good hotel that costs more than usual. The hotel is located right at Central world, so for the first time in so many trips, we didn't have to take any cabs at all. It's either walk or just take a train if the distance is too far. That was quite different because in the past, we would take a more budget hotel and take cab all the way because the location is usually more far off. So instead of a cheap hotel and spending time, energy and money moving around, we opted for an expensive hotel but saves effort and money moving around minimally.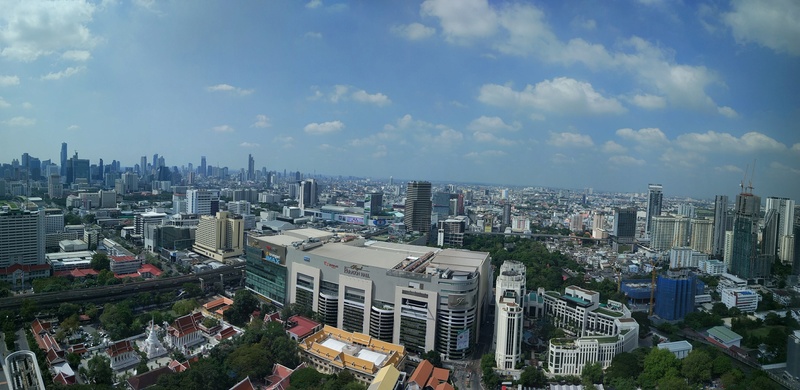 Half panoramic view from the hotel room
Secondly, we met a friend there. It's Derek, the blogmaster of TheFinance.sg and his wife. It was one of the rare times we met any friends overseas, so that was a very good experience for me. We went to our hotel's roof top bar to have a drink and see the world and soak in the atmosphere. Usually we won't go to such places, and we're glad to play host to our friends, meeting in a foreign land and seeing familiar faces.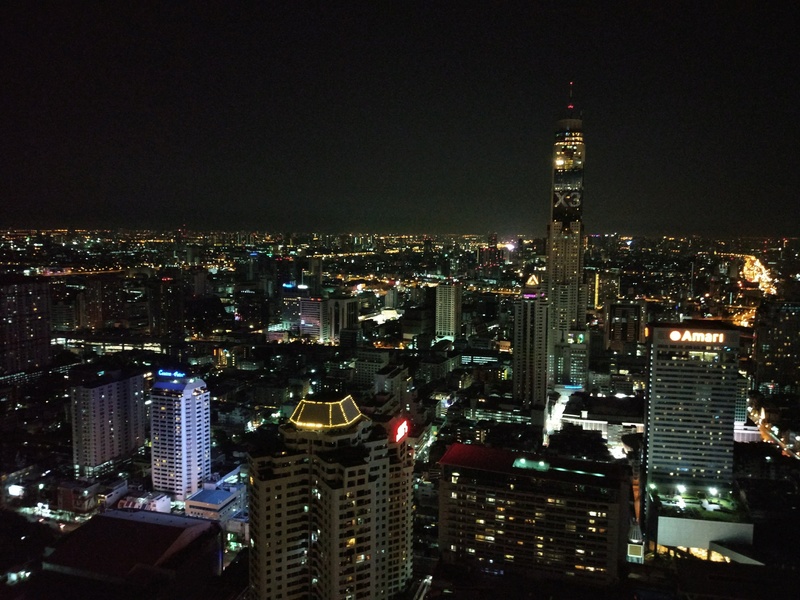 View from the hotel's rooftop bar
Thirdly, we went there as a couple many times, and this is the first time we went as a parent. I kept thinking and missing our baby boy. Thankfully we arranged for video call with my mum periodically, who is taking care of our boy. I didn't know I can miss someone so much. I am literally scrolling through past photos and sharing with my wife. That's an aspect that I didn't expect from myself.
These three things alone makes this trip slightly different and special. That's the external things. Internally, I feel that the whole trip makes me realise what the important things are in my life. While we are living the high life in Bangkok eating restaurants in almost every other meals, I thought to myself that I would not want to live such a life if my wife isn't around with me. Removing my wife from the context would make me miserable. Removing the high life context from me and my wife is very okay. So having my wife around me is very important to me, much more important the tour. Touring around with my wife is the point, and must not be mistaken for touring overseas. Next, we spent most of our time shopping, eating and resting. It feels shiok for the first few days, but after a while, it too became pointless. Why? We're missing our baby boy, so that's a new experience for me. There's only so much tom yum gong we can eat, so much thai milk tea to drink and so much goods to buy. Everything else is just bland after a while.
This is how my boy feels on the second day after he realised his parents are not around
I'm not sure why I was feeling like this. It's supposed to be an long anticipated trip, but around the middle of the trip, I wished I am home so that I can hug my baby boy. It's a funny feeling, and it makes me know what is important to me: family.
There are some observations I've made in my trip:
1) People stand on the right for escalator, meaning the 'speeding' lane is on the left. This is quite the opposite here in Singapore. I think sometimes when we take the escalator locally ourselves, we tend to mentally scold the person in front of us for blocking our way. But they could be used to their own way of doing things and blind to the new ways. We have to learn to be more understanding and also to be aware of our blind spots.
2) The car park in shopping malls are not located in basements and are actual stories. It's like in Singapore if we want to go to the carpark, it's usually located in B1, or B2. But in Thailand, it's in story 3 or story 4. It's interesting because perhaps they have too much land over there, so it's easier to build up than to dig down. The cost increases a lot as you go deeper down.
3) I've not been to thailand for 2 years, and suddenly I see a lot more people are into the mobile phone culture. Meaning that they will whip out their phone and stare at it for long periods of time.
4) There is a floor in MBK where there are artists selling copies of artwork and painting. I didn't see it anymore. I guess it had moved along with the times.
5) In big shopping malls, there are plenty of spaces that are under renovation and closed off. It's something like Singapore, where sections of malls are boarded up, with something 'exciting' coming along in the near future. The retail scene in Thailand is like ours too...slowly fading off.
6) Empty stores in Singapore are guarded by pots of money plants. But not over there. So money plant guardians is a local culture.
7) There is plenty of Japanese food over there, but not so much Korean food. In Singapore, it's quite the reverse. Korean food is popping up all over the place. I've not eaten any korean food before, nor wish to try haha
8) There's rarely authentic thai food restaurants, but I think Thai food is mainly street food, and that's where the authentic Thai cuisine are to be found.
9) Electrical sockets are turned clockwise from our orientation, meaning that the live is on top, neutral at the bottom and earth is on the right. Why is it rotated, I wonder...
Oh, and during the flight, I didn't watch any movies. None feels interesting to me. I listened to some music and kept reading. These are the things that brings me joy. After a few days of eating rich food, I stopped eating so much. I wanted to feel hungry again instead of eating at fixed timing. I also don't have to sit in a plane in order to enjoy some quiet moment with my wife. Sometimes I wonder whether I really do need this trip. Do I really need to go overseas? Actually no, but sometimes we need to go outside to realise what is really inside.
And boy, by disrupting my usual schedule, I've broken out of my usual thinking and re-found myself.
THAT is the true goal of travelling. At least in my definition.