On the last day of 2013, I've finished investing all the 50k entrusted to me into the market. I didn't do it irrationally. I've been thinking about it for a few weeks already.
My aim is to invest the 50k for a min of 2% and above, with very good chances of not losing the capital. This is not a growth-dividend portfolio, because I'm guaranteeing the capital. This is also not a high dividend yield portfolio, because I don't need to take the necessary risk to get the 2%, and neither can I guarantee the capital if the market goes down. As such, I'm only putting the money into pref shares/bonds. I choose bonds because as long as I hold till maturity, the ups and down of the price wouldn't affect me. Pref shares because they have a very low volatility; even during the financial crisis, it dropped 20+% but recovered. Most of the time the share prices are range bound. I just need to worry about whether the underlying companies are steady enough and won't go bankrupt throughout the holding period, hence I only pick government-linked companies and banks. Especially banks lol
I've put the money into 4 counters with the respective % (included commission) in brackets:
1. CapMallA3.8%b220112 (10.3%)
2. DBS Bk 4.7% NCPS 100 (42.9%)
3. OCBC Bk 4.2% NCPS (24.6%)
4. OCC 5.1% NCPS 100 (21.3%)
5. Cash (0.8%)
Total: 100%
By allocating as such, I'll have a cash flow of $2,144 per year, which is equivalent to a 4.29% portfolio yield, inclusive of commission. I plan to give my parents 2.50% pa, keeping the remaining 1.79% to buffer against the loss of capital when the pref shares and bonds are redeemed at par value when they mature. With this spare cash accumulated over 2 years plus, I can also buffer against a drop in prices of around 10 to 15% (amounting to 2.3k to 4.8k), in case they want to get the money out before maturity and I have to sell below my buy price.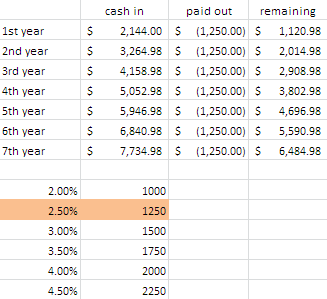 Estimated cash flow. Things will be a bit hairy upon the 5,6 and 7th year as some will be matured. But no point thinking so far ahead. A step at a time.
1. CapMallA3.8% (5 lots, board lot size 1000 shares)
This is the only bond that I have. The maturity date is 8.1 yrs from now, on 12-Jan-2022. There's optional redemption on 12-Jan-2017, 12-Jan-2018, 2019, 2020 and 2021. If they didn't redeem on 2017, then the interest will step up from 3.8% pa to 4.5% pa. It's a good thing if they redeem early, because by then, the higher interest rate environment might offer me more choices of bonds/pref shares that pay a higher yield too. If they don't redeem, I'll get a stepped up interest of 4.5% pa, so it's good too. Capmallasia is just more risky as a company compared to banks, so I only allocate 10% of the portfolio to it.
Do take note that if you buy now, you won't be in time to get the payment on Jan because the counter just went XI. The price, however, also dropped, so the total returns will be a little different from what I've put up in previous posts.
2. DBS 4.7% NCPS (2 lots, board lot size 100 shares)
They can first redeem on 22nd Nov 2020, which is 6.9 yrs from now, but this is an option for the issuers, not a requirement. You'll get 4.7% pa flat while holding.
3. OCBC 4.2% (12 lots, board lot size 1000 shares)
For this one, it's the more risky of the pref shares that I had bought. This is because the optional redemption date is on 14th July 2013, which had long passed. They can have the option to redeem anytime when they give the payments on 4th Jun and 4th Dec every year. Since I bought it above par, if they decide to redeem on the 4th June this year, which is one of their payment dates, I'll lose money. Based on my entry of 1.025, I just need to get 1 full year of interest at $0.042 and I'll be safe. That said, I think the chances of them redeeming on this kind of environment is going to be low. If anything, they shouldn't redeem this. They had already redeemed the higher interest bearing pref shares, so this is one of the lower one. It's a good bet, I think.
4. OCC 5.1% (1 lot, board lot size 100 shares)
For this, there's two interest rate. Before the first optional redemption on 20th Sept 2018 (4.7 yrs from now), the interest is 5.1%, based on $100 share price. If they did not redeem on that date, the interest will be 2.5% + 3mth SOR. Currently, the 3mth SOR is about 0.2 %, and 4.7 yrs from now, it should increase, not decrease. Since I'm happy getting a minimum of 2.5 % + 0.2% = 2.7 % pa, I got this too.