It seems like hyflux preference shares issue is getting a lot of attention lately. Besides splashing nearly a whole page on the local newspaper, it is also widely commented in internet forums and blogs. To see how immense the interest in the hyflux preference share is, one only have to look at the explosive increase in viewership after I've posted the two articles on my opinion regarding this fund raising exercise.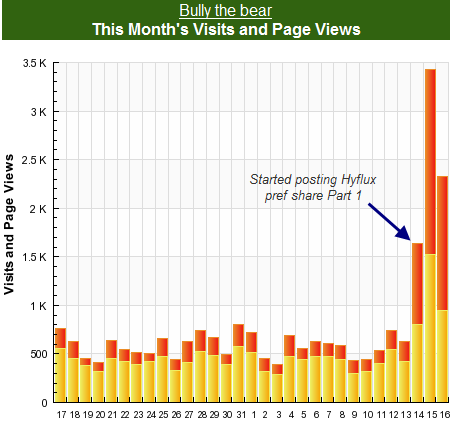 This is not the only indicator of the immense interest in the preference shares. Here's a few more:
1. The owner of
finance.sg
had his site banned by adsense (the appeal is still pending), likely because of the huge spike in traffic after
AK
and me posted our opinions on the preference shares.
2. The placement for the preference shares is so hot that the bookrunner, DBS, had received orders almost seven times the planned number of shares (i.e. S$200 million offer size). As a result, the offer is prematurely closed since the maximum number of allotment for placement cannot exceed $200 million.
3. Since the placement is oversubscribed by 7 times, the allotment for the placement is roughly 14% (1/7 = 14.28%). This is in line with what I've read in the forum for those who had been allocated their placement shares. It range from 10% to 15% roughly, based on a small sample of people who had mentioned their allotment percentages.
I was quite shocked by the strong demand for the preference shares, frankly. It goes to show that there are a lot of money floating around waiting to be deployed. Is that another indication that the bull run will carry on? But one thing for sure, the offer for the retail tranche of the preference shares would be pretty hot. Perhaps you can only get the minimum of 1 lot unless you really put in a lot of capital. Most likely it will be more oversubscribed than the placement shares, because those who did not get enough from the placement would likely try their luck in balloting for the retail tranche. Of course, you have to add in a huge number of those who would stag this preference share to get a quick buck.
If it's oversubscribed by 7 times, you probably need to put in 70k to get 10k (100 shares) of the preference shares. If it's oversubscribed by 10 times, you probably need 100k to get 10k worth of it. You can do the math yourself. But know that there is only 2 million shares to go around for everyone, so maybe some might not get any at all. Judging by the huge response of the placement, it seems like many would likely try their hands on the balloting to sell on the first day.
It'll definitely be interesting to see how the opening of the Hyflux preference shares be like on 26th April. Would hyflux bring
big bucks
for the holders? haha :)