Those holding Croesus retail trust needs to fork out money again. This was after their most recent rights back in Oct 2015 which I've blogged about
here
,
here
and
here
. There is now a preferential offering exercise going on, and in all respects, we can treat this as a rights exercise.
Here's the details: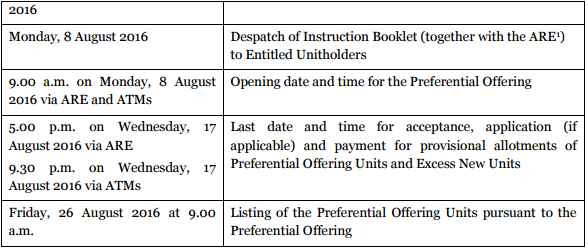 The dilution isn't that much. It's an offer of 10 new shares for every 259 shares held before it goes XR, priced at $0.797 for every new shares. Why 259? I've no idea, must be the doing of their financial wizards. If you own 10,000 shares of Croesus before XR, you'll need to fork out $307.72 to subscribe to the new shares. It's not that much, really.
The price went up to a high of 0.82 today strangely, but perhaps not surprisingly. It wouldn't look too good if the new shares is priced at $0.797 but the share price is trading below that.
I'll be subscribing to it, and applying for excess if available.