Another bond bites the dust.
Don't worry, this is not from the troubled oil and gas sector. It's the optional redemption of Capitamalls asia bonds, CapMallA3.8%b220112 announced from sgx
here
. I blogged about the bonds
here
and
here
.
The full maturity of the bond is actually on 12-Jan-2022 but there is an option for early redemption on 12-Jan-2017 and every year thereafter. Since there is a step up option for the bond if it is not redeemed on 12-Jan-2017 to 4.5% instead of 3.8%, I guess there's every reason for them to redeem it back in full. The 3 months SIBOR now is 0.87%, about doubled since Jan 2015. I guess I was wrong to think they wouldn't redeem it. There's still another bond out there with 3.08% by Capital Mall Trust (not the same, but yeah) with no step up option and with maturity date in 2020.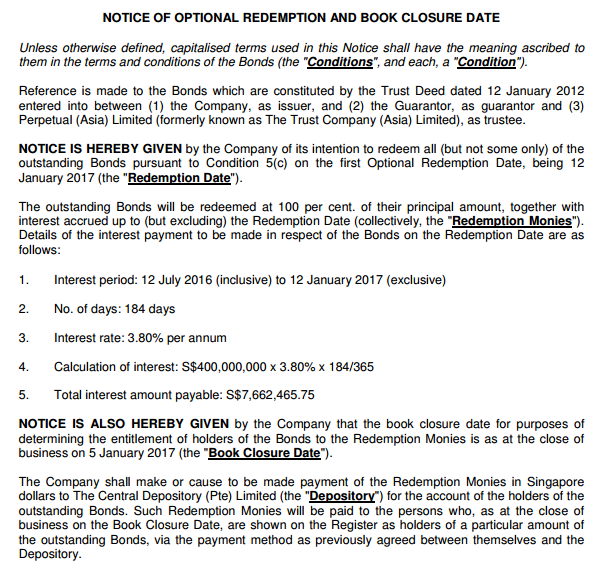 How would this affect me?
It wouldn't affect my portfolio because I don't have any more of this bond. But it'll affect my parent's retirement portfolio, to the tune of $26k. Guess what, I'm going to take the redeemed amount and return it back to them. The last time OCBC pref shares redeemed back, I took the money and reinvested back into FCL bonds, but I'm not going to do so now. It would seem that in the very near future, it might be better to put the money in the safety and guarantee of a fixed deposit in the banks, rather than to take that extra bit of interest and risk the price volatility of the bond. Especially if I'm the one guaranteeing their capital.
Nope, going to return them the money. No more reinvestment of the money into bonds for them.