In Singapore, if you donate to Institutions of a Public Character (IPC), you'll get a 2.5 times deduction of the amount donated to your chargeable or assessable income. This tax deduction period of 2.5 times is extended in 2011 and will last until 31st December 2015.
I was teaching a student about tax because it's covered in the syllabus. The syllabus is actually quite simplistic, so I took the liberty to incorporate real life elements into the picture so as to show her what is the tax situation here in Singapore. I mentioned about the use of donations to reduce chargeable income and it carries with it a 2 times deduction to chargeable income. Well, I was wrong...they changed that to 2.5 times already and apparently I wasn't updated about that information. While teaching her, I was wondering if it's worth it to make donations to IPC such that your tax amount is reduced to more than the amount donation, including all the 2.5 times mutiplier.
Here's the rates of tax for year of assessment 2014: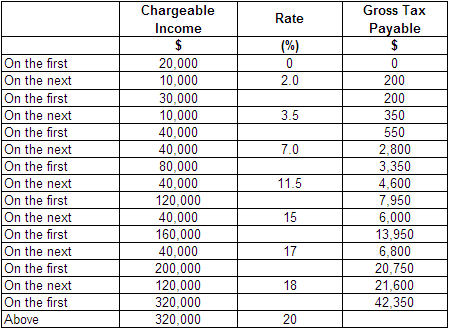 As you can see, the top tax rates for the highest income bracket is 20%.
For every $100 of donations, you get 2.5 times deduction to chargeable income, so that's a $250 deduction off your chargeable income. Below is the table that shows the amount of deduction to your taxable income, taking into the tax rates for different income brackets.
| | | |
| --- | --- | --- |
| Chargeable Income (up to) | Income bracket | Deduction to tax |
| $30,000 | 2.00% | $5.00 |
| $40,000 | 3.50% | $8.75 |
| $80,000 | 7.00% | $17.50 |
| $120,000 | 11.50% | $28.75 |
| $160,000 | 15.00% | $37.50 |
| $200,000 | 17.00% | $42.50 |
| $320,000 | 18.00% | $45.00 |
| > $320,000 | 20.00% | $50.00 |
The conclusion is something I didn't expect. If you're in the highest income bracket of 20%, earning more than $320k in year of assessment 2014, your $100 donation to IPC comes out to be $50 deduction to your tax. For those having lower income bracket, the final deduction to your tax is even lower than that. Before all these calculations, I would expect that there is a break even point where if you donate sufficiently large amount, you'll get to a point where it becomes financially worth it to do so. Nah, you're smart but the system is not stupid also.
Before you start flaming me, I'm just curious whether it's worth it financially to donate so that we can offset taxes. There's plenty of reasons to donate to a cause that you support, and knowing that it's not worth it to do so financially shouldn't stop you from doing it for other reasons. If anything, this small deduction to your tax is the cherry topping on top of your cake - let it be another reason, but not the sole reason, to donate to a worthy cause.
Okay, nagging doubt in my mind is resolved.