I had a car for about 2 years now and I dare say it's one of the best things I've bought. This is in sharp contrast to other financial bloggers, who are mostly too quick to dismiss car expenditure as something frivolous and definitely under the category of "wants" and not "needs". I thought I should share what's so good about getting a car in Singapore, rather than just focusing on the dollars and cents, which is pretty much anyone who frowns upon owning a car will say.
Firstly, the bad stuff. Everyone knows that to own a car in Singapore, you need the ultra expensive COE, which entitles you to own a car for 10 years at a cost of about 70k these days, and that's not including the cost of the car. Definitely not cheap. The running cost of my car per month includes the following:
1. Season parking (about $70)
2. Parking at other places ($50)
3. Fuel ($230)
4. Insurance ($90)
5. Maintenance (about $60)
Total: $500 thereabout
So the running cost is about $500. I haven't added in the cost of getting the car yet. I don't think I want to spend anything more than 40k on a car, inclusive of COE. So that means I'm effectively priced out of buying a new car. I went to the second hand car market and got a car for 32k, and that car can still last me for 4.8 yrs before I need to scrap or renew my COE. I paid half of it in down payment and borrowed the rest, so effectively my total cost is about $34k. This is way within my budget, and I really think it's affordable for people who wants to get a car.
Total cost: $500 + $360 (installment for car loan) = $860
Let's just bump it up to $1k per month. I chose to pay 50% and borrow the rest, way before it's mandatory to do so. But think if you're not buying any flashy cars, getting 4 wheels that allows you to move from one place to another should cost around $1.2k per month, everything in. Since I'm sharing the cost with my wife, I think I need about 2-3 more classes to offset this expense. That's pretty alright - essentially I work more so that I can work easier, and that doesn't include other fringe benefits that I'll mention right away.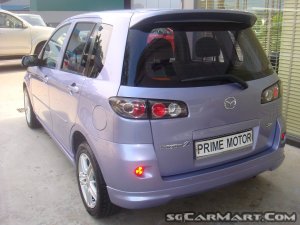 What's the good thing about owning a car then? I can't speak for everyone, but owning a car is great on several levels for me. Now obviously not everyone works in the same kind of work as me, so the experience for different people differ.
These are the good things about owning a car:
1. You can go to several places in one single trip. Often times, it's impromptu and not planned.
True, you can get a cab, but it's just not the same. Sometimes, thinking about all the hassle of getting a cab to this place, then another trip to another place just make it so troublesome. I ended up just going to one single place to do all my entertainment, groceries and shopping. It just severely restricts your range of mobility because of the hassle of public transport. You can't say I'm spoiled because my family never owned a car before and I've been taking public transport for the bulk of my life, whereas I only had a car for only 2 years. The 2 years is enough to convince me that I should have gotten a car sooner, not later.
2. Saves you lots of energy
Commuting by public transport is tiring and drains my energy level. In a normal workday, it's possible for me to change bus/mrt at least 3 times. It's much more tiring if I've to stand and jostle with the crowd during peak hours. At the end of the day, I'm totally dead from all the energy spent. I don't know about you, but spending my time jostling with crowd drains my energy tremendously. Maybe I'm an introvert, that's why. With a car, I'm relative still full of energy even at the end of my most tiring workday. I don't always get to drive (mostly, my wife drove), so I can compare the difference between taking public transport and a car.
3. Saves me lots of time
Having a car can half my travel time, usually more. A trip from my home to a student's place can take 1 hour. The bulk of the time taken is spent just waiting for the bus/mrt to come. I'll say about 20 mins can be spent just waiting. A longer wait is necessary if you have to change buses/trains. The second biggest time waster in public transport commuting is all the stopping. You have to get to A to B, but in between there are multiple stops for passengers to alight and board. That takes up a lot of time, especially during peak hours. The huge time saver for travelling by car means that I can pack another lesson or two in a day. I think that alone can justify the running cost of the car. I didn't even include taking assignments that is further away from home, but pays a lot more, and is only possible with a car.
I get it that people want to retire early, reach financial freedom, then do whatever they want to do with their lives. Perhaps work life is so terrible that any moment spent working to earn a living is a thought so terrible to stomach. But instead of living a life after retirement, you can also live a life while working towards retirement. A car is just one example where the intangible benefits far outweighs the cost - it might be any other things. Heck, the only reason why I didn't commit to buying one earlier is because I was so put off by the 1.2k per month expense. To this day, I regretted not getting it earlier. I could have spent the same money and got either a better car or a car that I can drive far longer before renewal of COE/scrap.
Don't be blinded by numerical value. Financial bloggers are, by definition, more conservative than the general public. My advice to all financial bloggers is this: Just live life a little. Being a little more risk taking is still less risky than most people, so
chillax
.