Japan had the greatest earthquake in its history, of magnitude 8.9. This triggered a tsunami that devastated the eastern and mostly northern part of Japan island. Due to the specter of possible nuclear meltdown over the nuclear power stations situated in Japan and consequently damaged during the natural calamity, Nikkei crashed very badly. The first day it crashed around 6% and today it crashed another 10%. That's a very bad crash, bringing Nikkei below 10k mark to around 8.6k.
This is a historical moment in the financial world, so I'll snap a shot of the crash of Nikkei. Horrific really.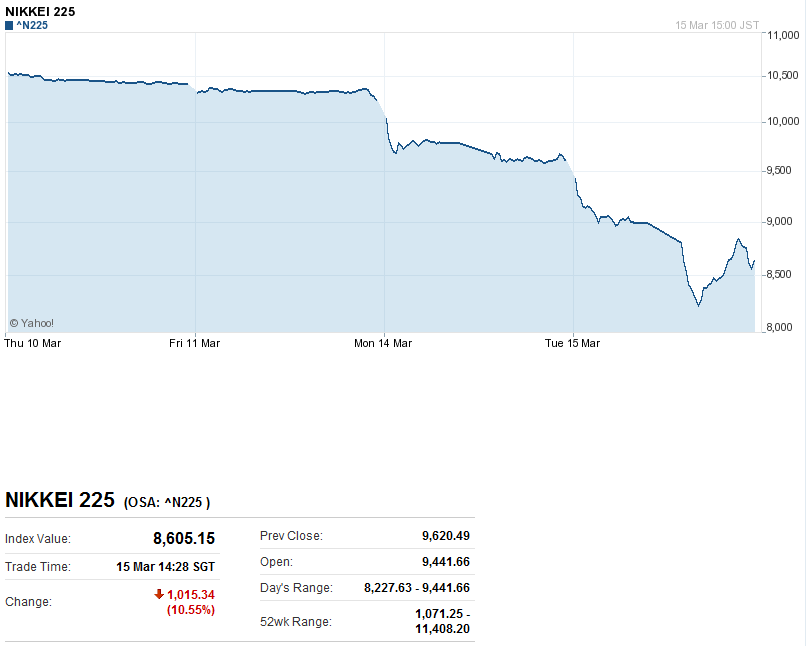 Stock market do not take kindly to uncertainty. Due to the tsunami and earthquake combo causing widespread damage, which is immediately followed by the overhanging of the possible nuclear meltdown, there is panic selling in Japan that spreads globally too.
Makes me wonder whether the time to buy and hold for long term is truly over, given the more and more frequent black swan events happening around the globe in recent years. However, it is not my place to comment on this. I just know what I have to do. Sell some and buy some. There's nothing to be emotional about your losses. Just take it stoically and be thankful that what we lost is just money. There are others out there who might have lost their entire home and even the lives of their loved ones.