I want to find out what is the possible rise in my portfolio after investing during crisis, and in so doing, I can find out the optimum amount of cash to keep. The problem with cash is that while it's very useful during crisis, there's a cost to it. It's the drag on your portfolio return, that is, your cash is rotting in the bank doing nothing. On the other hand, investing throughout the ups and downs will mean that your portfolio volatility will be swinging in extremes too. Not for the faint hearted.
I start off by looking at Straits time index in the past. These are the major crisis that happened and what the STI returns look like after while. The first dates indicated the lowest point in STI while the second date refers to the apex of the bull run that occurs after market recovers. The % refers to the percentage increase i.e. 220% means if you invest 100k, your portfolio will increase by 220k.
1998 Sept to 2000 Jan - 800 to 2580 - 220%
2003 Apr to 2007 July - 1220 to 3900 - 220%
2009 Mar to 2015 Apr - 1450 to 3550 - 145%
The last current bull run might be still 'running'. As you can see, all these are from hindsight. It's not clear until after the fact had happened. Since I can't predict the future, well, the past history is all that I have.
Assuming that we can only capture 70% of the bull run from trough to peak, we are talking about 220% x 70% = 150% gain or a 250% increase in portfolio. Let's use that figure to guesstimate our returns from crisis investing.
If we keep 100% cash and invest during crisis, we can realistically expect to get about 150% increment. That means we're looking at 225% increase in our portfolio. If we keep 80% cash, and invest during crisis, we can realistically expect to get about 200% increase in our portfolio. If we keep 60%, we can expect to get a 175% increase in our portfolio. If we keep 40%, it'll be 150% increase in portfolio.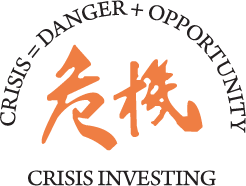 Here's a few thoughts:
1. If you think the returns are too low, you can leverage. But it comes with its own set of problems.
2. If you're hoping to become a millionaire after the crisis, you have to be realistic. Ask yourself how much you have in your portfolio now and how much cash you are keeping and how long are you waiting for that big crisis to happen. We haven't even talked about whether you have the balls to go in while others are busy rushing to get out.
3. Since STI tracks only blue chips, which are safer, we can technically do a few rounds of the crisis investing. When STI is at the trough, we get into blue chips first. Once the blue chips recovered and STI goes up, people will take notice of the rising market and get in, so we get out of the blue chips and enter the mid/small caps before they do. When the blue chips had finished rising, the next rotation will be the mid/small caps, so technically we 'compound' our cash faster. Instead of going in and out during crisis, we recycle our capital and do it within each cycle itself. Easier said than done, of course, but that's the plan. The execution depends on your skill.
4. For me, I aim to get around 40% to 80% cash during crisis. That should realistically get me a minimum of 150 to 200% increase in my portfolio growth organically. Haven't include recycling of capital or injection of new capital or dividends.
5. We only get 2 rounds of solid crisis and I've wasted one already. I can't waste it anymore. Save hard, work hard on my craft and execute it. I don't want to be caught in a crisis without the cash to utilise, or the psychology to take advantage of it. If executed properly, this can save me a few years of my life.
Updated (22nd May 2017)
Thanks to theintelligentinvestor from Investingnote community from spotting my calculation error in the percentage. At first, I still thought that crisis investing is still alright. Now, with the changes in the error, an organic portfolio growth of 150 to 200% is crazy and I know it's do-able!