I read a very interesting article about the
comfort principle
this morning. It's about optimising your spending in such a way so that you maximise your comfort level. If not taken to the extreme, this provides a very good guide on spending on things that are of value to you, not merely to catch up with or impress others.
Similar to the author in the article, I also spent A LOT of money on a chair. When I renovated my current home, I knew I will be spending a lot of time at home. I'm constantly having back aches from sitting in ill adjusted chairs and because of the long amount of time spent sitting down, the chair gets hot very easily. It's very frustrating when you know you have to do work but you're suffering from back aches and hot butts. Hence, when I saw this awesome chair with mesh netting (to allow ventilation) with lots of adjustments to fit the chair on you, instead of the other way round, I wanted to get it immediately. But the price tag of 1.6k is what held me back.
This is the exact chair that I bought
That was when my wife came in and reasoned with me. This chair will probably last 6 years, probably longer. My previous chairs lasted about that amount of time too (imagine the aches I've to suffer!!). If I spend 8 hours sitting on it per day, it'll be a good 17,500 hours of usage, which works out to be about $0.10 cents per hour. Considering that this is the 3rd year of usage and it's still running strong, I think it can probably last a lot longer than 6 yrs, bringing down the usage cost per hour. Knowing myself, I will probably not buy another chair if this one can last that long.
And so I bought a super duper chair with a price tag of $1.6k. Sounds like a splurge, but I think it's one of the best buy because it's something I use every single day, bringing me a comfort level that I might not have if I've to get a chair which is way cheaper.
This principle is not a good excuse to buy anything because you only live once. The article mentioned that you must also combine it with knowing what is 'good enough'. Also, what is expensive need not necessary be the best, so don't go judging the quality of items with the price tag.
I think to balance this article, I must also mention that while I can spend so much on a chair, I'm loathe to spend on a watch. A watch is functional to me and it must have 3 things - lights, stopwatch, digital time. I can't wear metal watches (It'll be too heavy for me) and the weather is too hot for leather straps (it'll stink when sweat soaks in). That totally leaves me out of luxury watches, which is perfectly fine for me. I recently got a watch for $30 and I'm so very happy with it. So before you say it, I'm not asking everyone to buy everything that your money can afford.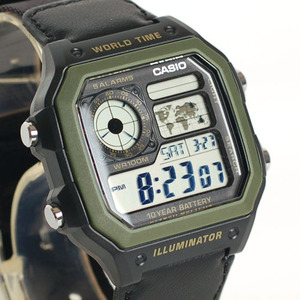 This watch I got it from qoo10 for about $30
Spend crazily on the things that matter, and frugally on the things that don't.