** "BIAS" is a special feature in my blog where I get to say whatever I want with scant regards for your feelings. I'm not politically correct in this feature, so go ahead, judge me."
Time seems to fly these days. It seems like it's the opposite of what Einsten's theory of relativity had proposed. You know, in that theory, if you travel as fast as the speed of light, time seems to stop from your point of view. In work life, it seems that if you work very very hard, time seems to fly even faster. Day and night zooms by, punctuated by meal times and the occasional travelling and before you know it, Monday goes and Friday comes again, thus ending the week.
Since there is really not much activity in the market (okay, except for my sell order that I had been consistently keying in everyday but didn't get filled), I thought it'll be good to talk about things that I'm grateful for and things I'm not so happy about. Here goes:
An unhappy cake. Have you seen a cake that wants to be eaten?
Things I'm not happy about:
1. I spent my morning reading through the Sunday times and saw an article about CEO of SMRT saying that the mrt trains at its peak are carrying 1.4k passengers, compared to its 'crush load' of 2k passengers. She then compared to the peak carrying load in Tokyo and HK and implied that the trains are not as fully packed and Singaporeans can squeeze in if they choose to do so.
I think if she takes a break off her car for 1 month, and try to take the MRT to work everyday, squeezing in with the crowd in the morning and again in the evening, she can better appreciate the implications of her statement. The stress related to being cramped in a tiny morsel of space day in and day out cannot be described to a person who had not experienced it before.
I hate it when people in authority starts comparing to other countries to 'bring out' the goodness in our system. Things are not so easily comparable. I can similarly cherry pick things that are good about other countries to 'push down' our system of doing things here too.
2. I was woken by a sharp diarrhea this morning way before my alarm rings. Must be some nonsense I've eaten last night.
3. Some horrible horrible inconsiderate people are honking their car horns so early in the morning. I'm sure whatever problems might be in front of them can be solved by calmly walking over and talking to the person, or simply by waiting. Honking your car horn doesn't make things any better. When I was a learner driver, I had my fair share of it. It made me worse as I get even more nervous. I'm sure whoever is honked at would feel the same too, or that they are simply immune to it. Either way, honking the car doesn't get things done...perhaps it only serves to wake up some people around the neighborhood.
I remembered a joke from my army daze. A group of us are sitting in the bunk, trying to escape the evil all-seeing eyes of the CSM. One of my buddies asked what should be done if you're driving and the car in front of you starts to slow down. He's studying for his basic theory so he's asking some possible questions.
a. Slow down
b. Speed up and overtake him
Did anyone choose option (a)? Well, not contented, another of my buddies started wisecracking and said that we should honk first, then slow down and honk again. There you go.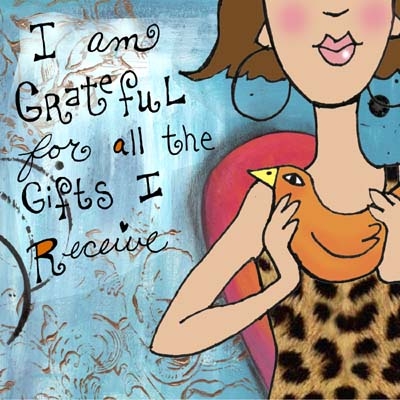 I like this picture a lot. Simple and to the point.
Things I'm grateful for:
1. I went to Robinson sales at Singapore expo with my girlfriend yesterday. It was such an interesting experience! There was a concurrent MPH warehouse sales so we went over there first, where my gf bought 9 books (it's considered a few...I'm sure she'll carry more if I didn't force my way with her). I guess she can spend her whole lifetime reading her already immense collection of assorted books lying all over her room and threatening to spill over other parts of her home. Silly girl :)
The books are priced at $8 each for 1 general book, and $35 for 5 general books. The collections are quite varied and I haven't even walked 50% of it. I think they are ending today, so go and check it out if you like a good bargain.
The Robinson sale was fantastic too. Bought some Adidas shirts at over 60% discounts. All sorts of things there, but be prepared for long queues :)
2. I'm grateful for the early morning showers that makes the day much cooler and more pleasing. I was joking to my student one day that we should all go down to Orchard road to grab some floating iphones and hermes bag when one of these high intensity, high duration rain comes again :)
3. Wonderful technology - blue ray. Was at a brother's place watching some 'brue lay' movies and was once again amazed at the crisp clear pictures. I must have said it more than once that I'll be happy just watching the subtitles because they are so pleasing to the eye!
4. School holidays will be over! I can finally get to rest in the morning and resume my vampirish schedule which I think I'm better suited for. Begone early morning classes, welcome night classes!