There's a difference between surviving and thriving. When you're surviving, you care only about the bare essentials to maintain status quo. When you're thriving, you strive to exceed and improve the current situation. Both requires different mentality and preparation. I share with you some examples in our daily lives:
1. Taking care of children
I think I'm still at the surviving mode. I feed, shower, change and make sure the baby is alive. But I wouldn't go so far to say that I thrive yet. I'm essentially doing the basic things. Now that I'm used to the routine and the demands of taking care of a baby, I must say that it's getting comfortable. Not comfortable in the sense that it's easy, but comfortable because I'm habituated into the different task and I'm reasonably skilled in the different skillsets needed. It's time to go to the next stage where I thrive. I've been reading and researching on the various things to stimulate the baby so that it will have maximum synapse connections. It will no doubt demand even more energy and effort that I'm currently putting, until I'm used to it, so at least for the initial stages it's going to be hard and tiring.
2. Portfolio
We always think that when the crisis hits us, we're going to make it out of it like Alibaba. But it might not be the case. To survive a crisis is hard enough, because usually more than one bad thing will happen. You might lose your job for example, so are you sure you can put in your investible cash into the market and watching it sink lower and lower and lower? Are you sure you won't need it for other things? To thrive after a crisis, you must be psychologically AND financially prepared for the downturn. You must have psychological and financial reserves. I wasn't prepared in this two aspects the last few rounds, so hopefully I am in the next coming one.
3. Work
We can survive our work by doing the bare minimum requirements not to get fired. But to truly thrive in it, we must put in the extra effort and take the initiative to do things that we are not in our pay grade yet. We do this to improve and also to prove to others that we can take on higher responsibility, which hopefully, comes with a higher pay as well. It might not be just about job scopes, but it could be relationships as well. Are you just surviving on the current relationships with co workers and your bosses, or are you thriving? If you're wondering why others are always getting promoted over you, why others are favoured over you, maybe you are merely surviving in their eyes.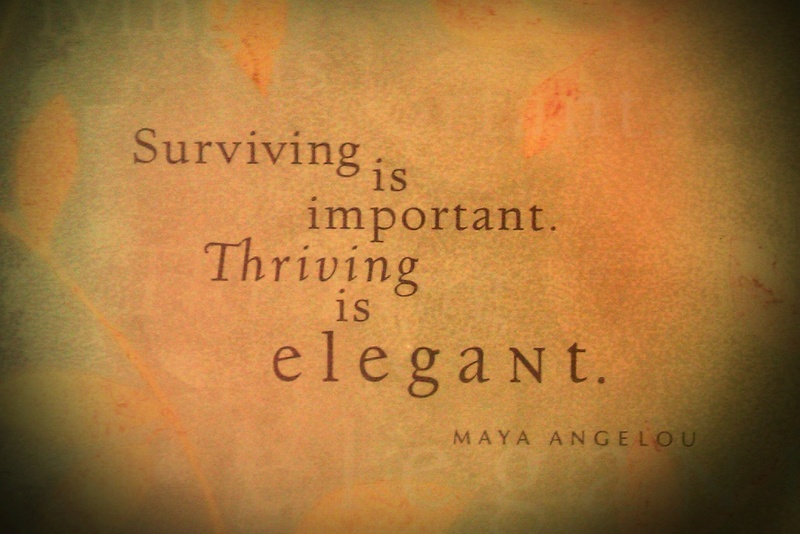 Those are a few examples of surviving vs thriving. But all of these examples have the same underlying commonalities. They are:
1. To thrive, you must first survive.
2. You must have something steady in your lives before you can take the necessary risk in order to thrive.
3. You must be prepared to put even more effort and energy to thrive, because the game rules for surviving and thriving is different.
The 1-2-3 steps can be looped in a feedback cycle for improving any aspect of your life. First you learn how to survive. You master the survival skills needed, and after a while you no longer need to think or use much energy. That's when you know you reached steady state. You're ready to learn how to thrive, if you so wish. Not everyone wants to go on the next stage and it's perfectly okay. Next, you need to unlearn all you learned during your survival state and learn how to play the big league game of thriving. After a considerable time, you again reached a steady state where you don't need to expend much energy and effort. That is the new state of 'survival'. This process keeps looping 1-2-3 continually until you stop wanting to go further or you can't master the necessary skills to go up one level or you just run out of life.
How much effort do you need to do all these? Some people count it by hours, so citing some expert out there, it requires about 10,000 hours to reach a certain level of mastery. I prefer it count it by the sacrifice needed. To reach mastery level, you need to be sufficient obsessed over it to sacrifice everything in the midst of learning. Maybe it's called passion, but I find it too vague and over-used. Everyone is using 'passion' to talk about some things that they just acquainted with in the last 5 minutes.
Passion should be defined as wanting to thrive in something by sacrificing your energy and time to the exclusion of everything else. Most people wants the mastery without the sacrifices, and it can't be done. Maybe they don't want it badly enough. Everyone wants to go to heaven, but nobody wants to die.